About Us
Information about Harley Street Spine Clinic
Reclassifying treatment for neck, back and muscular pain, injuries and disorders. We're the UK's renowned back care professionals and our expert team of therapists offer multi-disciplinary physical therapy and are highly respected by NHS and private healthcare professionals. We'll ensure your receive the highest musculoskeletal treatment using the latest technologies in the industry to help diagnose your condition and relieve you of your pain. The team at The Harley Street Spine Clinic comprises of an integrated group of spinal specialists collectively offering a full spinal diagnostic and minimally invasive treatment service.
Harley Street Spine Clinic Team
Darren Chandler
Darren is co-founding director of The Harley Street Spine Clinic.
Although Darren's training was Osteopathy based, his wider knowledge of the spine, skeletal system and then their pain management has far exceeded the normal sphere of the osteopathic practitioner, preferring the title "Back Pain Specialist", which better describes his exceptional knowledge of the symptomatic causes and effects of back pain. This was gleaned over many years whilst shadowing some of the country's leading consultants in spinal surgery, pain management and radiology.
This has put him in a unique position, offering bespoke therapy for various musculoskeletal conditions whilst advising on Spinal Surgery, Injections and treatments based on an individuals pathology.
Darren Lectures on spinal pathology, runs courses on interpreting MRI scans of the spine in correlation with clinical findings. He is also a regular contributor with in the press, Men's Health Magazine and appears on TV in an advisory context.
Robert Shanks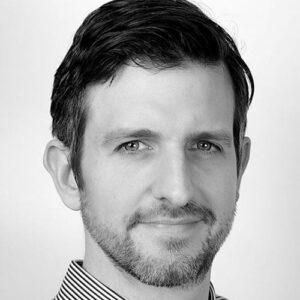 Robert Shanks – Osteopath & Clinic Director. As company director and co-founder Robert is part of the driving force behind our multidisciplinary approach. Robert has been strongly influenced by his mother, a chartered physiotherapist with 40 years' experience. Robert graduated as an Osteopath in 2000 and subsequently furthered his education with several postgraduate courses, notably in medical acupuncture, electrotherapy and clinical Pilates (the latter with the renowned Australian Physiotherapy and Pilates Institute). As well as treating sports injuries and tension headaches, Robert's other main area of special interest is the management of patients with chronic low back pain and neck pain associated with disc problems.
Dr Sajid Butt
Dr. Sajid Butt MB BS, FCPS, FRCR. is one of the most highly respected interventional radiologists in the UK. Dr Butt completed his radiology residency from Guy's and St. Thomas' Hospital NHS Foundation Trust in 2003. As well as being a major part of our Harley Street Spine Clinic, Dr Butt continues his vital work for the NHS at The Royal National Orthopaedic Hosptial (RNOH), Stanmore. His involvement in our clinic includes advising our therapists on patient MRI scans and other imaging, as well as performing on-site image guided therapeutic and diagnostic injections for spinal and orthopaedic disorders for patients should this be required.
Clinic Gallery
[layerslider id="16″]
Spinal Surgeons
We work alongside a variety of leading surgeons in London, each offering subtly alternative surgical techniques and procedures, which include:
Bob Chatterjee
Peter Hamlin
Sean Malloy
John Yeh
Colin Natali
Rheumatologist
We work with and refer to our talented Rheumatologist:
Orthopaedic Sports Physician
Our talented sports injury physician we work alongside is:
Dr Catherine Spencer-Smith
Total Orthopaedics